Never Talk To Strangers marked the end of Hollywood's brief but passionate affair with erotic thrillers in the 1990s. While the 1980s featured several erotic thrillers like Body Heat and 9½ Weeks, it wasn't really until the success of Basic Instinct in 1992 that Hollywood realized the box-office potential of the genre. Paul Verhoeven's controversial thriller was a very steamy update on noir thrillers of the 1940s, and the film would defy expectations by grossing over $350 million worldwide.
This led to a short-lived wave of similar movies trying to capitalize on Basic Instinct's success. This includes infamous Madonna vehicle Body Of Evidence, the garish Bruce Willis thriller Color Of Night and even action films like the 1994 remake of The Getaway up the steamy quota. Sharon Stone also returned to the genre for 1993's Sliver, which received mostly bad reviews but proved to be a box-office success nonetheless.
Related: Why Sharon Stone's Basic Instinct Interrogation Scene Remains So Controversial
While some of these studio thrillers were hits, like Disclosure with Michael Douglas (Ant-Man), most of them like Body Of Evidence or David Caruso's Jade were critical and commercial duds. By the time Never Talk To Strangers came along in late 1995 this subgenre had already burned itself out. It didn't help the film itself was a mediocre thriller that relied on the chemistry of its leads to get by.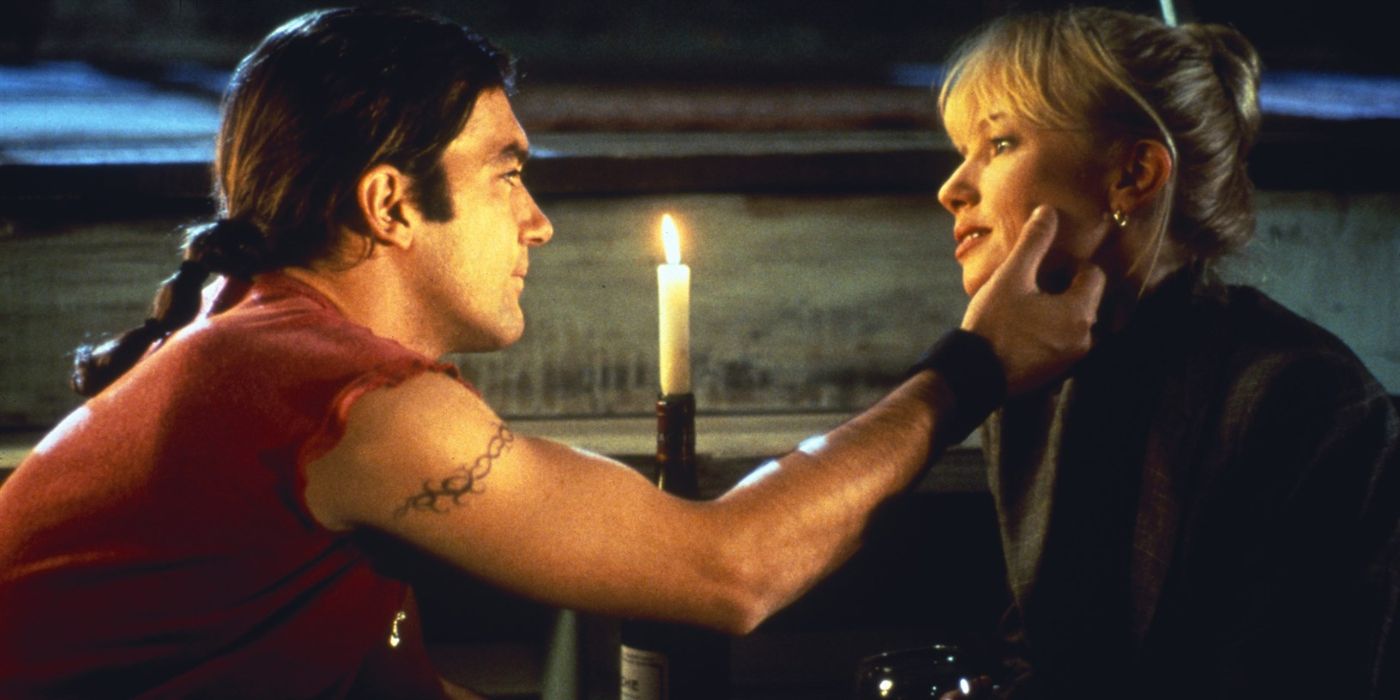 Never Talk To Strangers stars Rebecca De Mornay (Jessica Jones) as Dr. Sarah Taylor, a psychologist who meets the charming, handsome Tony. She ignores the advice of the movie's title since Tony is played by Antonio Banderas, and the pair embark on a spicy relationship. Sarah then starts to receive twisted gifts and begins to suspect Tony is stalking her. While Never Talk To Strangers isn't the worst of the 1990s erotic thriller cycle, it's one of the dullest. De Mornay and Banderas do what they can to inject some life into it – and commit to the obligatory sex scenes – but the movie is pretty flat. It does end on an interesting twist that reframes the story, but savvy viewers will be able to see where the story is heading.
Never Talk To Strangers came and went quickly upon release, receiving average reviews and weak box-office. While some erotic thrillers followed, they were mostly independent productions like David Cronenberg's Crash or Bound. Banderas gave the genre another shot with 2001's Original Sin alongside Angelina Jolie (The Eternals), but this proved to be another bomb. Erotic thrillers never gained a foothold in mainstream cinema in the quite the same way, which was best seen when 2006's Basic Instinct 2 grossed less than $40 million.
Next: Movie Love Scenes That Were Too Cringey To Sit Through