Gaining iconic status in the world of the WWE as a six-time world champion under the name "Batista" aka The Animal, Dave Bautista has become one of the most recognizable faces in sci-fi, action and comedy movies over the past decade. His imposing stature and crowd-pleasing personality being very reminiscent of fellow WWE-legend-turned-actor Dwayne Johnson has helped him make a name for himself in Hollywood.
RELATED: Guardians Of The Galaxy: 8 Drax Quotes That Destroy
Bautista is an actor still on his way to the top of his career as a movie star but his relatively short stint in Hollywood, and abroad, has already produced a number of beloved characters in record-breaking movies. Here are his ten best according to their Rotten Tomatoes ratings.  
10

TIE: Hotel Artemis (57%)
Hotel Artemis was the directorial debut of Iron Man 3 co-writer Drew Pearce and a palpable flop. Alongside Bautista's side character, the movie featured screen legends Jodie Foster and Jeff Goldblum as well as supporting actors Zachary Quinto, Charlie Day, Sterling K. Brown and Sofia Boutella. But it failed to ignite audience's passions, its snappy script perhaps being better appreciated by a more niche audience.
RELATED: 10 Movies Of 2019 That Are Destined To Become Cult Classics
Bautista plays an orderly named Everest at the titular Hotel Artemis (an exclusive hospital for criminals in the not too distant future) and assists Foster's head nurse with jobs requiring some muscle.
9

TIE: Riddick (57%)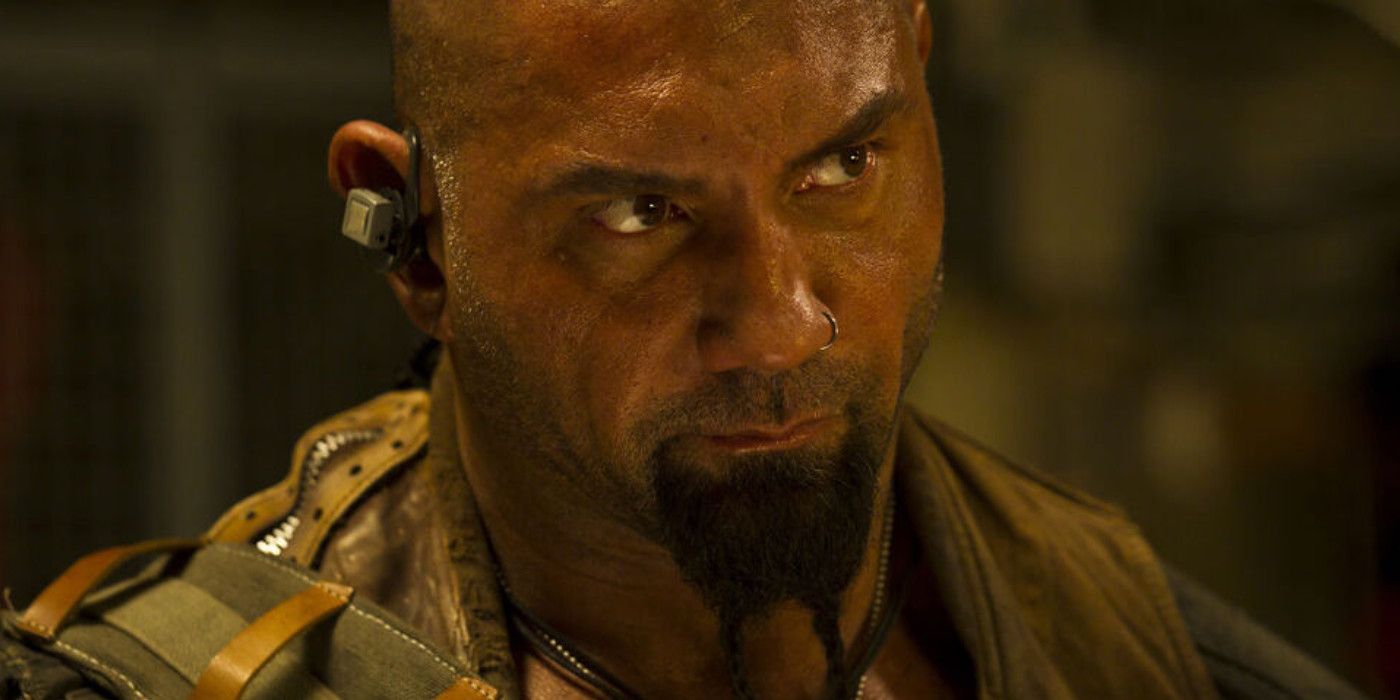 Bautista plays a star-hopping mercenary bounty hunter, named Diaz, in the back-to-basics semi-reboot of Vin Diesel's eponymous sci-fi antihero Richard B. Riddick. Here, Diaz is under the employ of the despicable cutthroat leader Santana. Like his boss, Diaz is forced to join forces with the man they came to hunt in order to survive an onslaught of their alien planet's indigenous monsters. 
Not quite your typical goon, Diaz takes the honor of being Riddick's opponent in the movie's big fight scene and Bautista's unique skills from the wrestling ring really begin to shine.
8

Spectre (63%)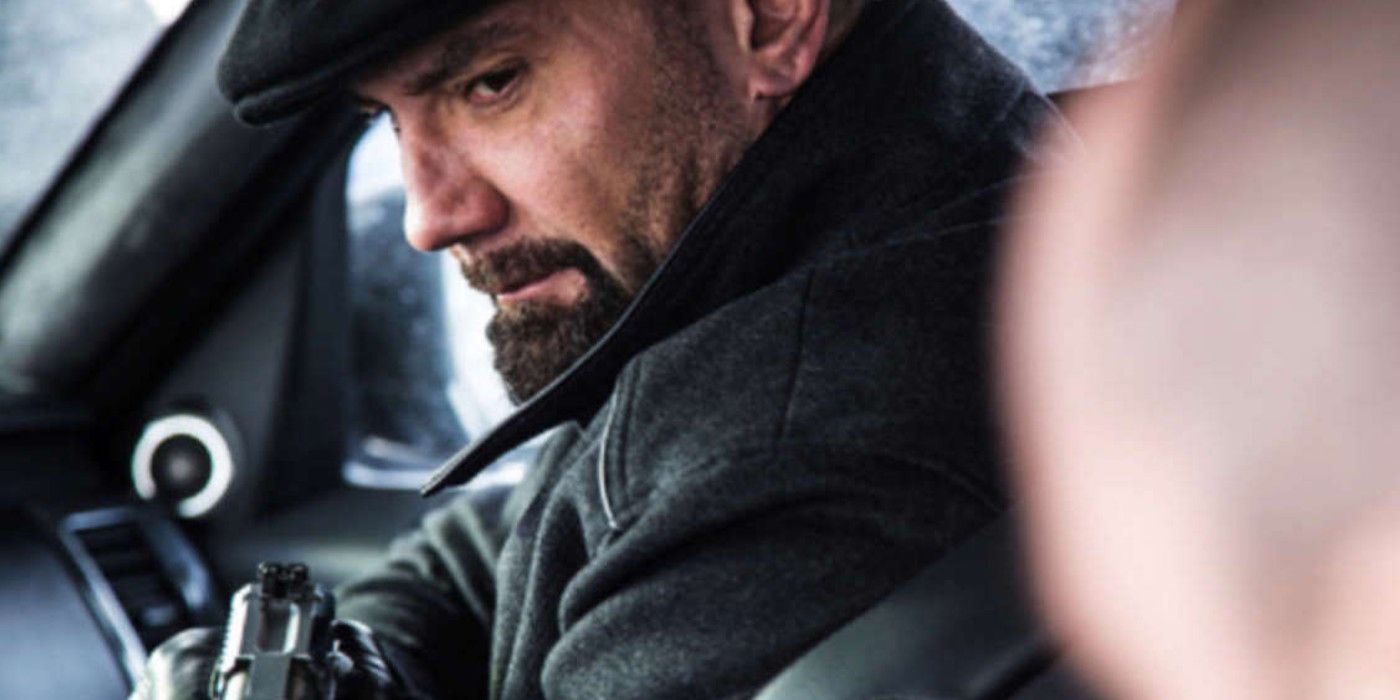 Sam Mendes' followup to Skyfall didn't set either the box office or the hearts of fans ablaze like his first outing with Daniel Craig's superspy did, but it did enough to be considered a worthy entry in the ongoing series.
RELATED: 007: The 10 Best Bond Movie Henchmen, Ranked
Bautista plays a mysterious member of the shadowy organization Spectre. He acts effectively as a classic Bond movie henchman, sent on a relentless mission to kill Bond and protect the organization's secrets. He's presumed dead but given his resemblance to fan favorite henchman Jaws, it's been speculated that audiences could see him again one day.
7

Final Score (68%)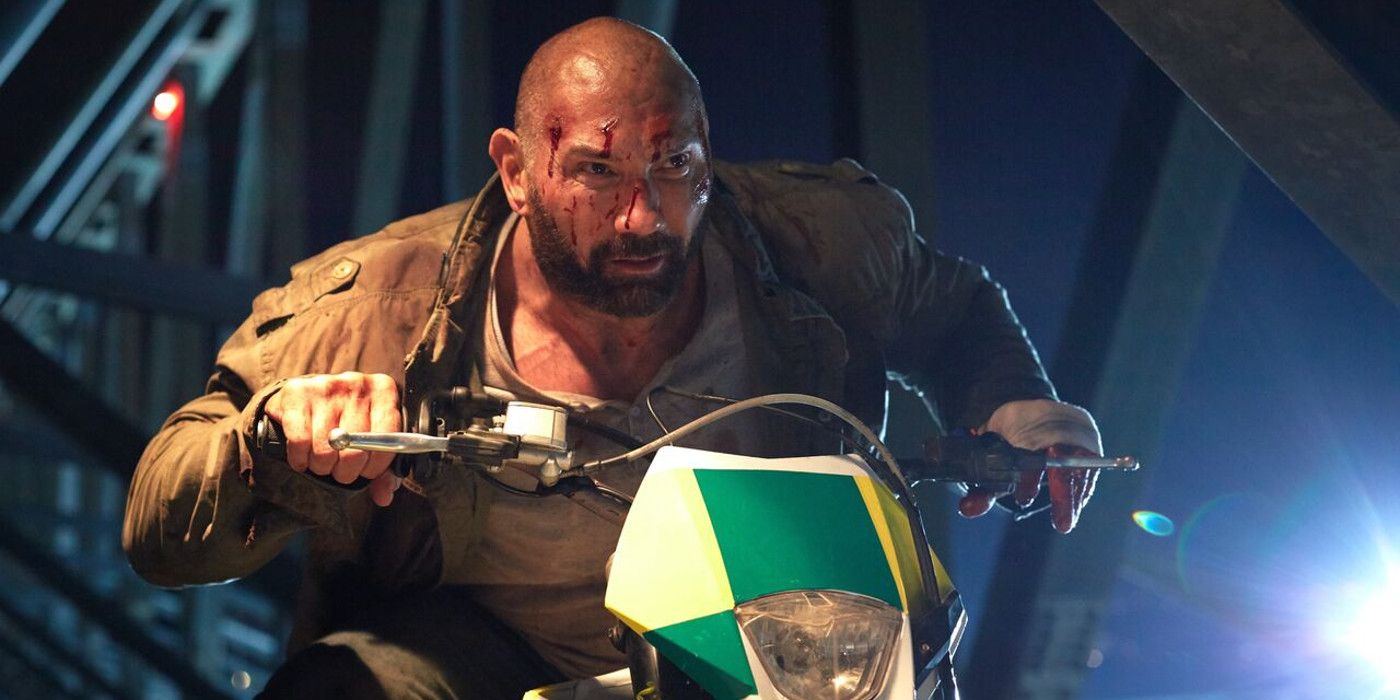 Bautista plays Michael Knox, a former soldier taking his fallen comrade's daughter to a football game at London's West Ham stadium. On the same night, terrorists take over and rig the place with explosives, holding it hostage for their own goals. 
Sharp-eyed action movie fans will have already spotted the familiar nature that Final Score goes for and it hits its marks. With 31 reviews, it has no consensus yet on Rotten Tomatoes but Variety's Dennis Harvey summed it up well when he wrote that "Final Score has no ambitions beyond pure escapism, and it meets its humble goal."
6

Guardians of the Galaxy Vol. 2 (84%)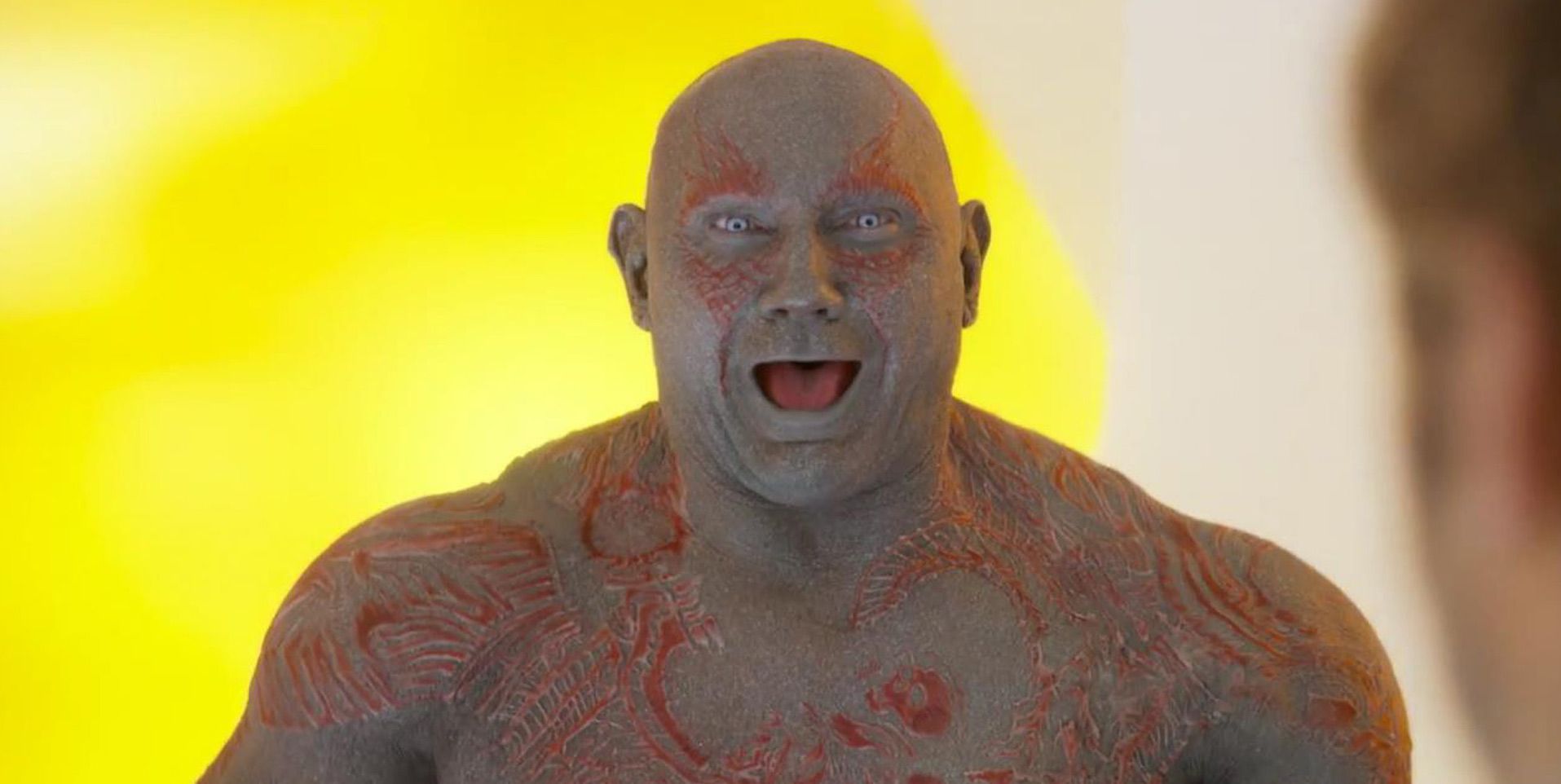 Reprising his role from 2014's Guardians of the Galaxy, Dave Bautista is not excluded from the movie's need for longer action set pieces, weirder ideas, louder laughs and bigger tears. While not as well received as the original, fans and critics agree that it succeeds in what it sets out to achieve.
RELATED: 10 Reasons Guardians Of The Galaxy Is The MCU's Best Solo Franchise
Bautista became so invested in the bonds made during these movies' filming that he was the most prominent figure to come out publicly, and loudly, in support of director James Gunn when he was briefly fired from the third installment.
5

Avengers: Infinity War (85%)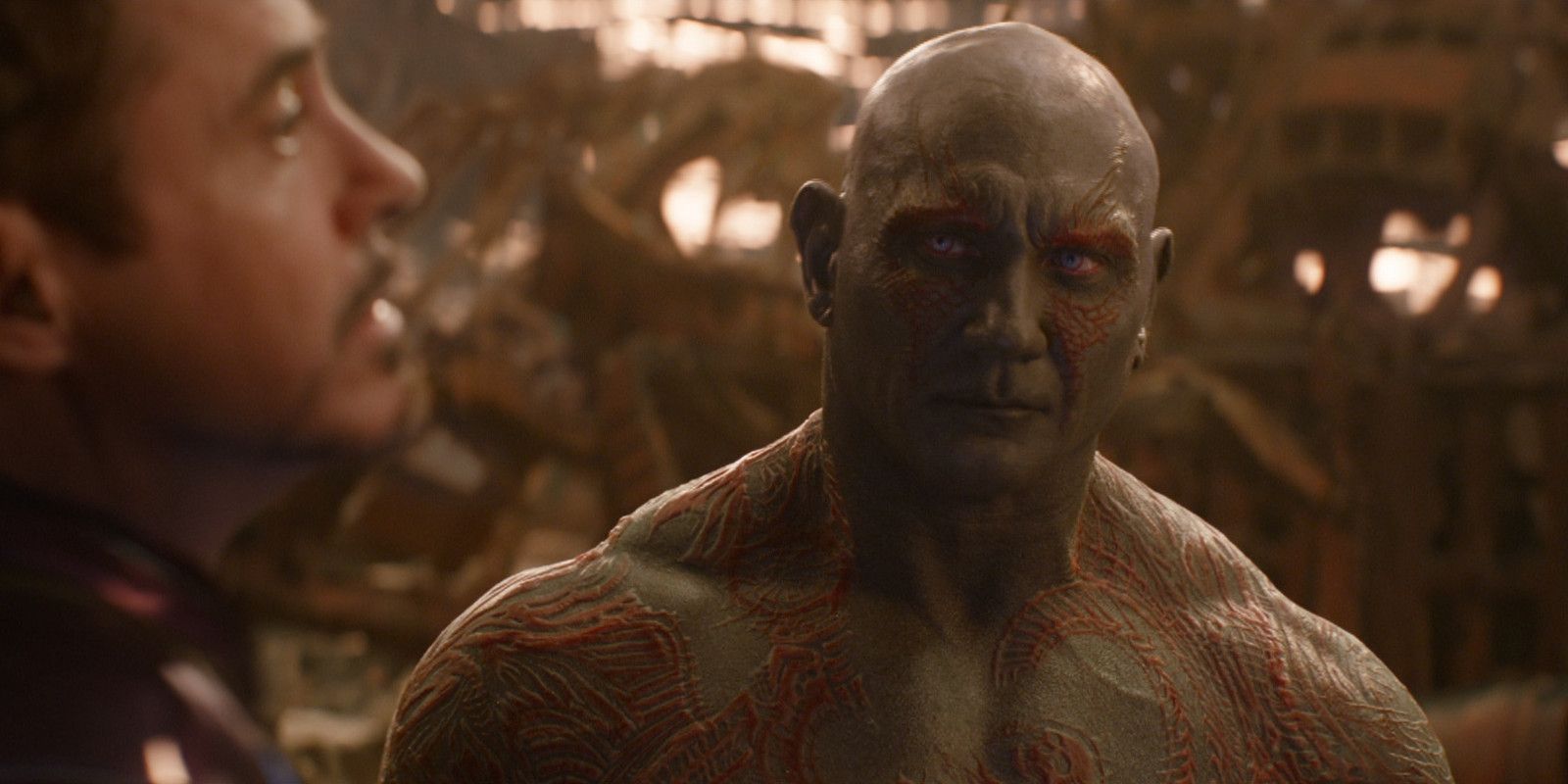 The beginning of Marvel Studios' two-part farewell to their flagship Avengers series (for now) was a dazzling success and its highest-grossing venture until the second part was released. It follows on from events laid out in Guardians of the Galaxy Vol. 2, with Bautista's character still seeking revenge against the superhero universe's biggest and baddest villain, Thanos.
Though not as high-grossing or critically well-received as the concluding part of the so-called Infinity Saga, Infinity War satisfied fans of the movie series both old and new. As Rotten Tomatoes put it, the movie was "a thrilling, emotionally resonant blockbuster."
4

Blade Runner 2049 (87%)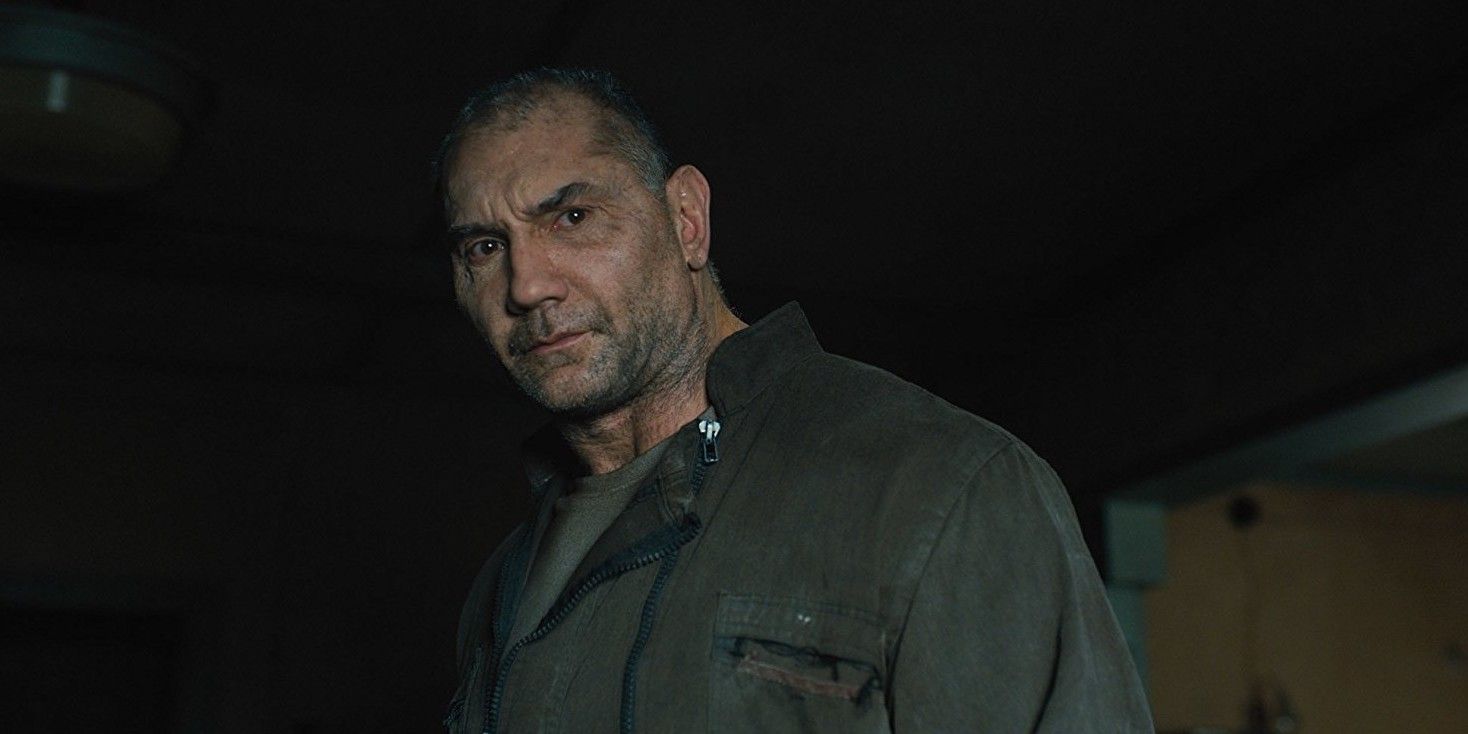 Bautista plays what seemed to be a small role in Denis Villeneuve's belated sequel Blade Runner 2049. His one short scene here not only sets up the entire plot, but his character's words and actions echo throughout the entire story. Sometimes literally.
RELATED: 10 Sci-Fi Masterpieces You've Probably Never Seen
He plays a fugitive Replicant in Ridley Scott's iconic sci-fi universe who harbors a hugely important secret regarding the future relationship between the synthetic workers and their human masters. His time spent with Villeneuve evidently being an experience they both enjoyed as Bautista was one of the early cast announcements for Villeneuve's next project, Dune. 
3

Master Z: The Ip Man Legacy (89%)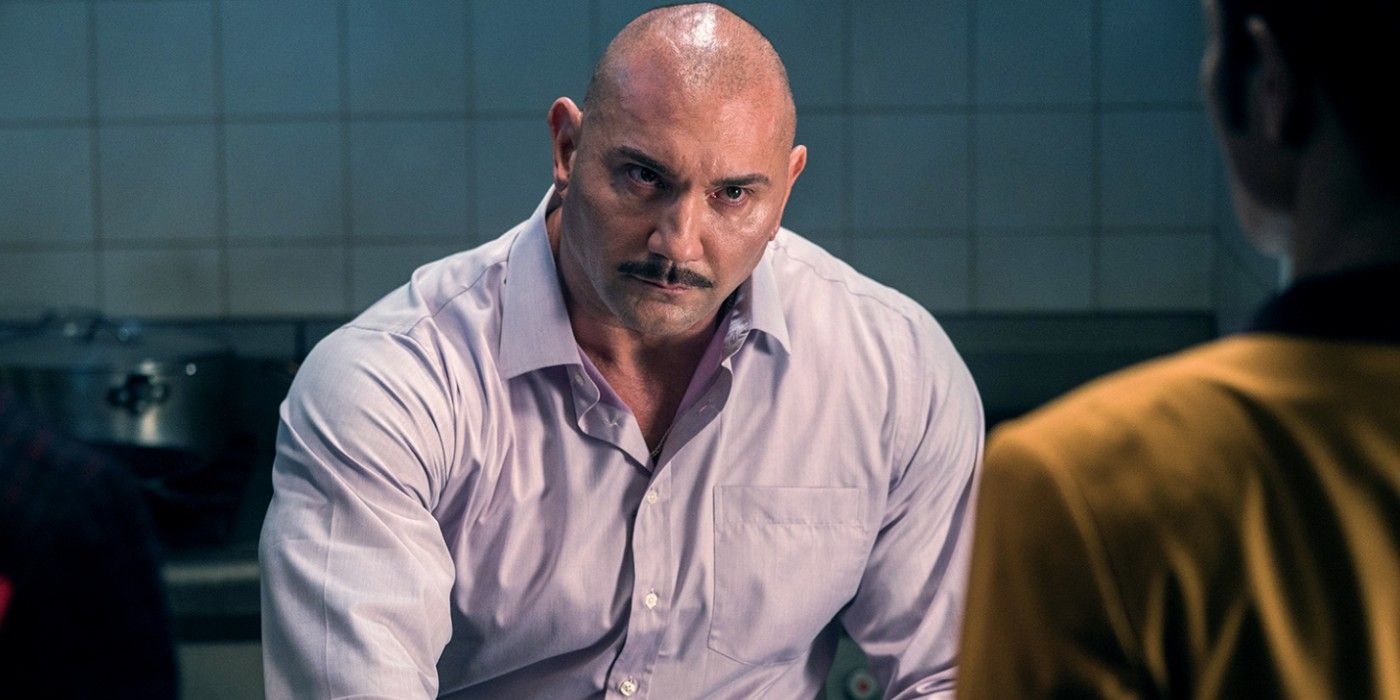 A spin-off sequel to the hugely successful Ip Man movies starring Donnie Yen as the infamous martial arts master, Yuen Woo-ping's Master Z: The Ip Man Legacy is set in the same plotline of the preceding movies but follows a former opponent of the titular Ip Man.
Bautista plays the movie's antagonist, Owen Davidson, who operates a drug smuggling syndicate from a restaurant that he owns. It's far from Bautista's first time as a movie's villain but with an 89% fresh score on Rotten Tomatoes, it's his most acclaimed bad guy role to date. 
2

Guardians of the Galaxy (91%)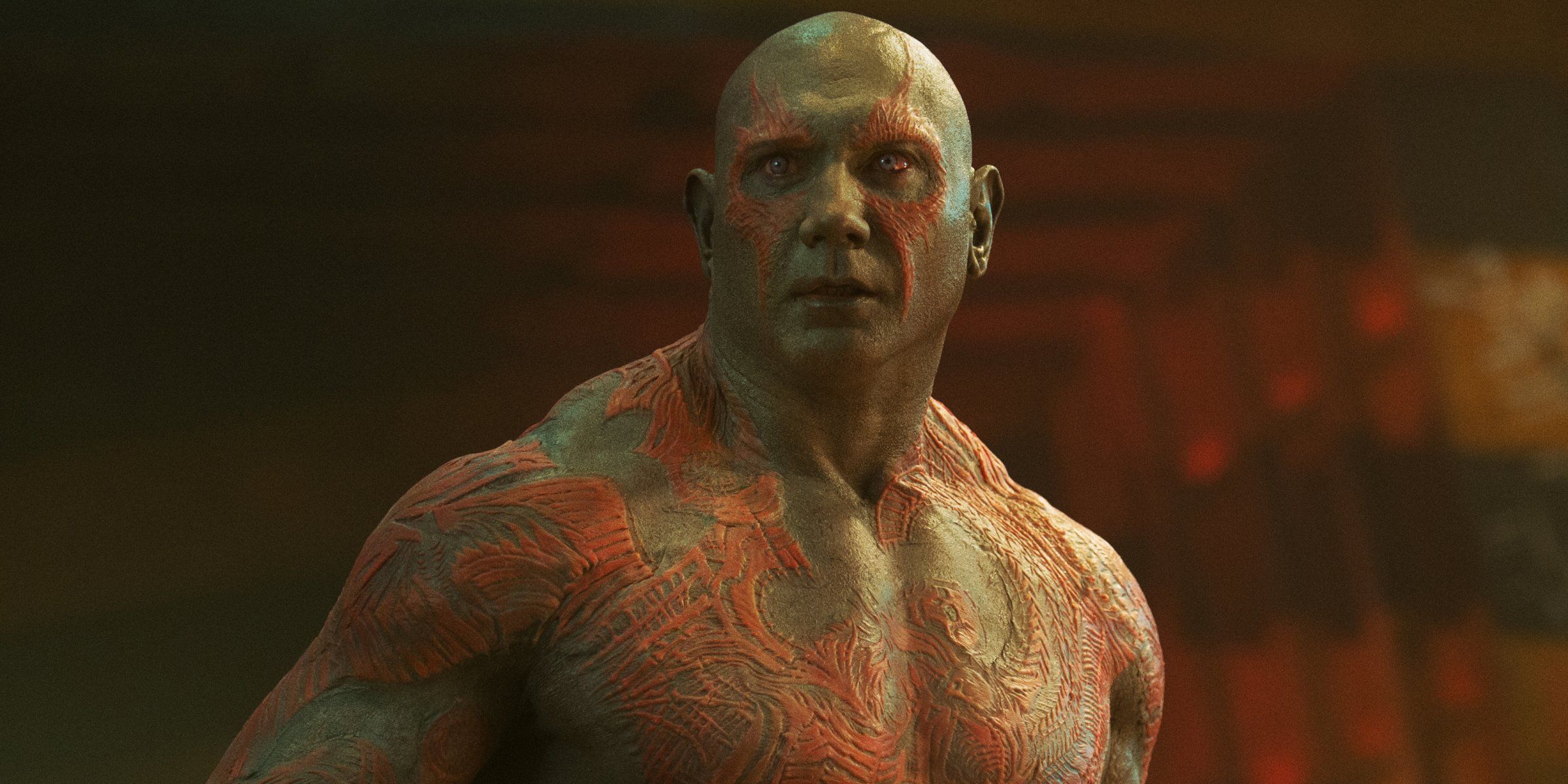 James Gunn's debuting of Marvel Comics' little-known space superheroes seemed like the riskiest thing that the still-growing Marvel Studios had done or, possibly, would ever do. This seems very quaint now after the company's unimpeded blockbuster rampage from the ensuing five years, but there it is.
RELATED: 10 Best Used Songs In The Guardians Of The Galaxy Movies, Ranked
No one really knew that Guardians of the Galaxy would be a hit when it first came out and that element of surprise cemented it as one of the decade's most memorable blockbusters. Bautista's role as the overly literal but incredibly lovable Drax the Destroyer became the biggest role of his career thus far. 
1

Avengers: Endgame (94%)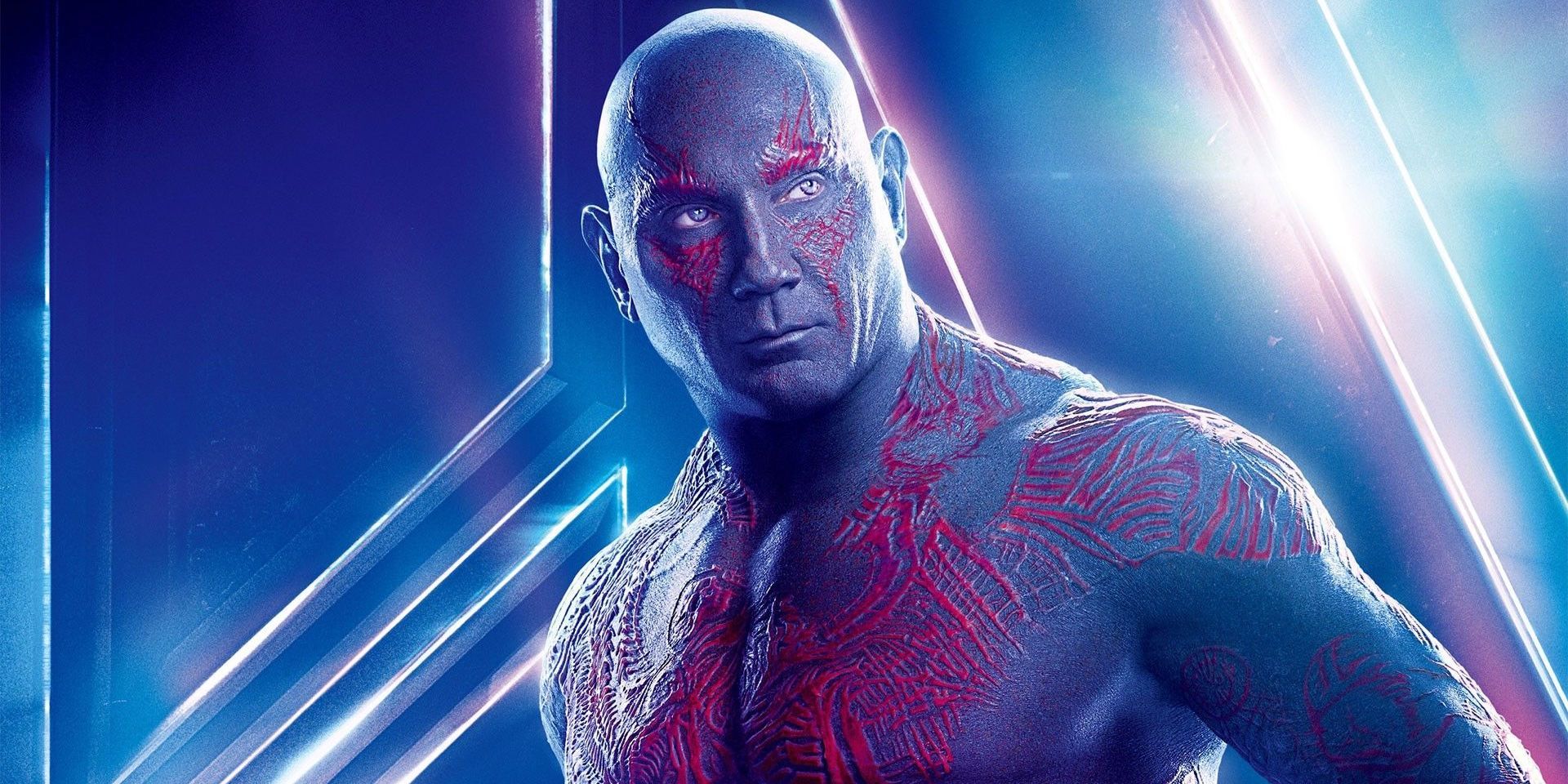 Though Drax doesn't appear in the movie for very long and barely gets to say or do anything before the movie's closing seconds, there's no stopping the gravitational pull of the Marvel Cinematic Universe's biggest hit yet. It was so colossal that it dethroned James Cameron's Avatar for the position of highest grossing movie ever made (unadjusted to inflation).
Critics have been in sync with the fans the whole way through with Avengers: Endgame, with Rotten Tomatoes' Critics Consensus for its 94% certified fresh score describing it as "Exciting, entertaining, and emotionally impactful".