A new ballot conducted by a prominent figure in the Super Smash Bros Ultimate community has closed, revealing a number of big-name favorites that fans would like to see included as DLC in Nintendo's all-star fighting game. There's always speculation running rampant across forums and social media about what character will be included in Smash Bros Ultimate next. Evidently, Nintendo has only prolonged these talks by confirming that Smash Bros DLC will continue past the current Fighters Pass.
The most recent character reveal was none other than Fatal Fury's Terry Bogard, who wasn't necessarily a character on fans' radars. Still, the history of the character and his company, SNK, makes him a fun pick, and fans are excited to try him out in November. That leaves one more spot on the Fighters Pass before more DLC is inevitably rolled out, and fans are frantically trying to guess who else may be in the works.
Related: Smash Bros Creator: Ultimate DLC Part of Honoring Iwata's Legacy
This passion for speculation eventually led to three figures in the Nintendo and Smash Bros communities (Sabi, PapaGenos, and Scott the Woz) opting to compile data in their own conjoined ballot in order to determine who the cream of the character crop was. The results for one of the three ballots were shared by Sabi on Twitter (via SwitchSoku) and are interesting, to say the least. Overall, DOOM's Slayer, Super Mario RPG's Geno, and Ninja Gaiden's Ryu Hayabusa amassed the most points out of an estimated over 6,500 participants.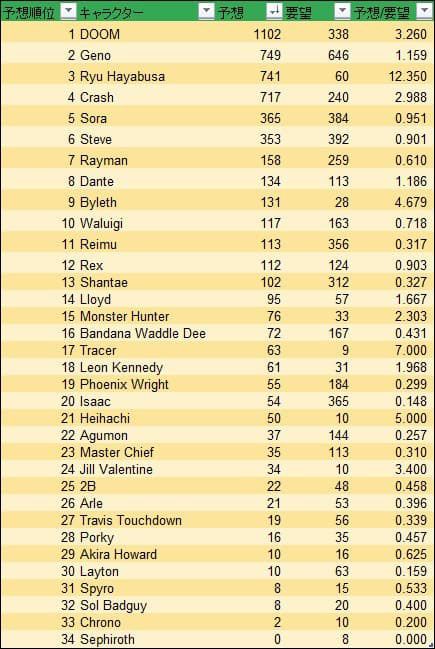 The process for selecting these characters was based on accumulating points in two major ways: what fans wanted the most and who they believed was most likely. In the end, Geno came out the most popular of the characters, while DOOM's Slayer picked up the combined win with popularity and likeliness for inclusion in Smash Ultimate. Other favorites included Crash Bandicoot, Rayman, Kingdom Hearts's Sora, Minecraft's Steve and Devil May Cry's Dante. Truth be told, all of them seem feasible.
Anyone that's a fan of any of the above-listed characters may be excited to see their favorite amongst the many names. It's important to note that the roster selections are often filled with curveballs and unexpected selections. That's what makes trying to guess who will join the fray next all the more exciting. all we really know at this point is that Goku won't be getting into Smash Ultimate, so hopefully no one reading this is too invested in seeing the Saiyan warrior square off against Mario.
Next: Smash Bros Ultimate Can Have Any Overwatch Character Nintendo Wants
Source: Twitter (via SwitchSoku)