With a new profile image, bio, banner, and a bizarre tweet, Cory Balrog appears to be teasing something on Twitter. Barlog serves as the Creative Director at SIE Santa Monica Studio, and his last title was last year's exceptionally well-received God of War. So well-received, in fact, that it wound up scoring a marquee Game of the Year award last year.
Barlog, in fact, mostly has credits in the God of War franchise. Aside from two titles in the early 2000s and the Tomb Raider reboot that dropped in 2013, he's worked exclusively on the God of War realm. With God of War, Barlog has served as Lead Animator, Story Writer, Director, and Creative Director. To put it lightly, Barlog has practically lived the mythos of Kratos for the better part of two decades. The same can be said for his studio, too. Aside from one title in 2001, SIE Santa Monica Studio has also worked exclusively on God of War.
Related: God of War Director is A Fan of The Witcher 3 on Nintendo Switch
All of that history with one franchise, between both Cory Barlog and SIE Santa Monica Studio, is what makes his recent Twitter tomfoolery so bizarre. Barlog changed his profile picture to that of a satellite in space, swapped his banner out for a shot of a starfield, altered his biography to what appears to read 55sie in morse code, and fired off a strange tweet. The tweet begins with what could be "n" in morse code, then it reads "", followed up with potentially more morse code that reads "sie." His biography appears to be even more morse code, too, with that reading "55hsie." Talk about bizarre.
All of this could be nothing. It could be Barlog just goofing around on Twitter for laughs. He's known for being open and fun with his ideas and personality. It could also be something big for gamers. Last year, Barlog told fans that they wouldn't have to wait too long for the next God of War, and a relatively recent rumor indicated a sequel is already in the works. This could be his first tease of that announcement; but, all the signs point to something else. Unless Kratos going to space, which, while sweet, doesn't really make much sense. Given all of the imagery, this certainly seems sci-fi in nature.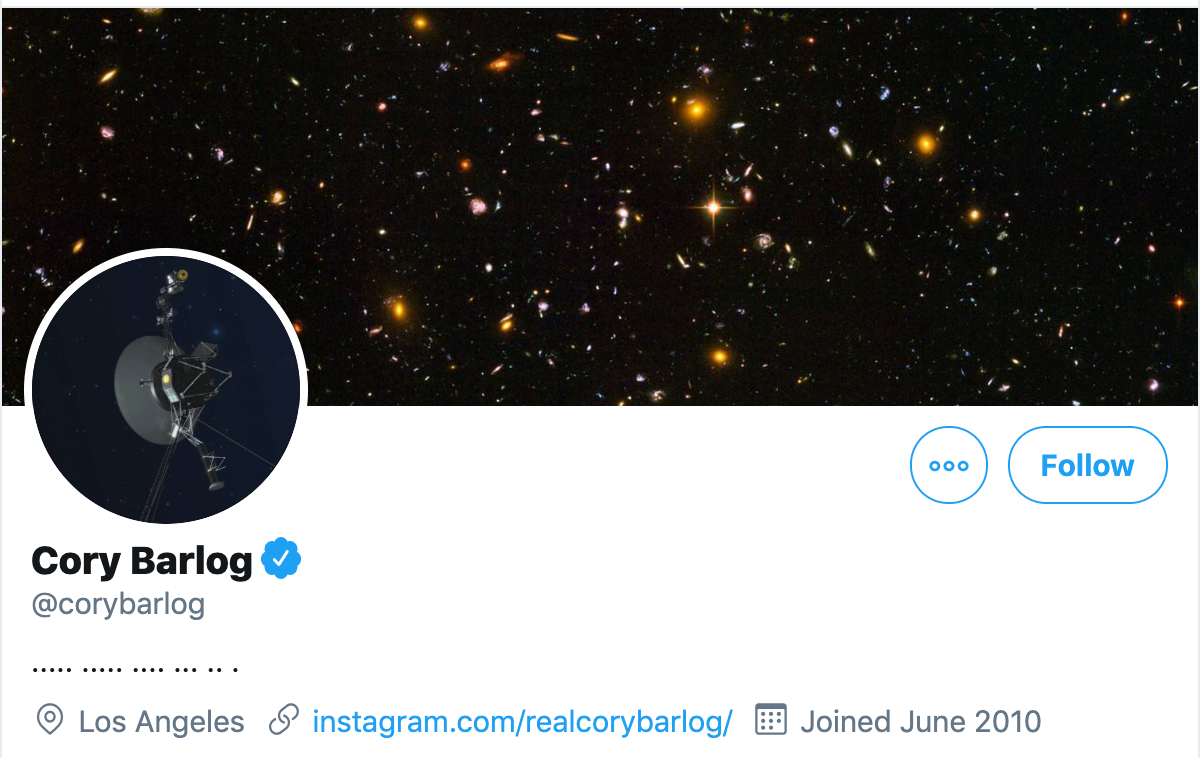 The alternative leading theory indicates that either Barlog or SIE Santa Monica Studio are switching gears, and the former of which might fit Balrog's tweet the most. as Baltrog tweeted "" followed by "sie" in morse code, could he actually be announcing his departure from the studio? And what about the possible "n" that precedes everything? Could he bound for a studio or company with an 'n' in its name? We can think of one huge company that fits that description, and that move would be quite the… Switch for Barlog if it were true.
Next: New Xbox Studio Hires God of War Designers
Either way, it seems like a larger announcement is coming, and it looks like a change is in place either for Barlog or SIE Santa Monica Studio.