Dwight Schrute was known for having a collection of bobbleheads on his desk throughout his time on The Office. The character played by Rainn Wilson was exceptionally quirky, and the items on his desk were always off-limits. One bobblehead in particular may have looked ordinary enough, but actually held additional significance in connection to Dwight's boss and Dunder Mifflin Scranton branch's manager, Michael Scott: the baseball bobblehead.
The bobbleheads displayed on Dwight's desk were his prized possessions. This didn't stop his workplace nemesis and deskmate, Jim Halpert, from poking fun at the keepsakes or using one to hold for ransom. Dwight's secret lover, Angela Martin, was also well aware of how much the bobbleheads meant to her coworker. In The Office season 2, episode, "Valentine's Day," Angela gave Dwight a custom bobblehead doll modeled after Dwight himself, which he proclaimed was the best gift he ever recieved.
Related: The Office Easter Egg Makes Jim's Best Prank Even Better
Up to that point in the series, Angela gave Dwight his special personalized bobblehead, the one typically shown in focus on his desk was a baseball player named Mike Lieberthal. The catcher played for the Philadelphia Phillies for the majority of his 14-year MLB career. Before coming up to the big leagues, Lieberthal played through the minors in the Phillies organization including Scranton/Wilkes-Barre RailRiders. Dwight's Lieberthal bobblehead was depicted from the player's time on the RailRiders from 1992 until the mid-'90s when he wore the number seven. The paper salesman may have been a fan of Lieberthal, but the reason for the bobblehead could have been to honor Michael Scott.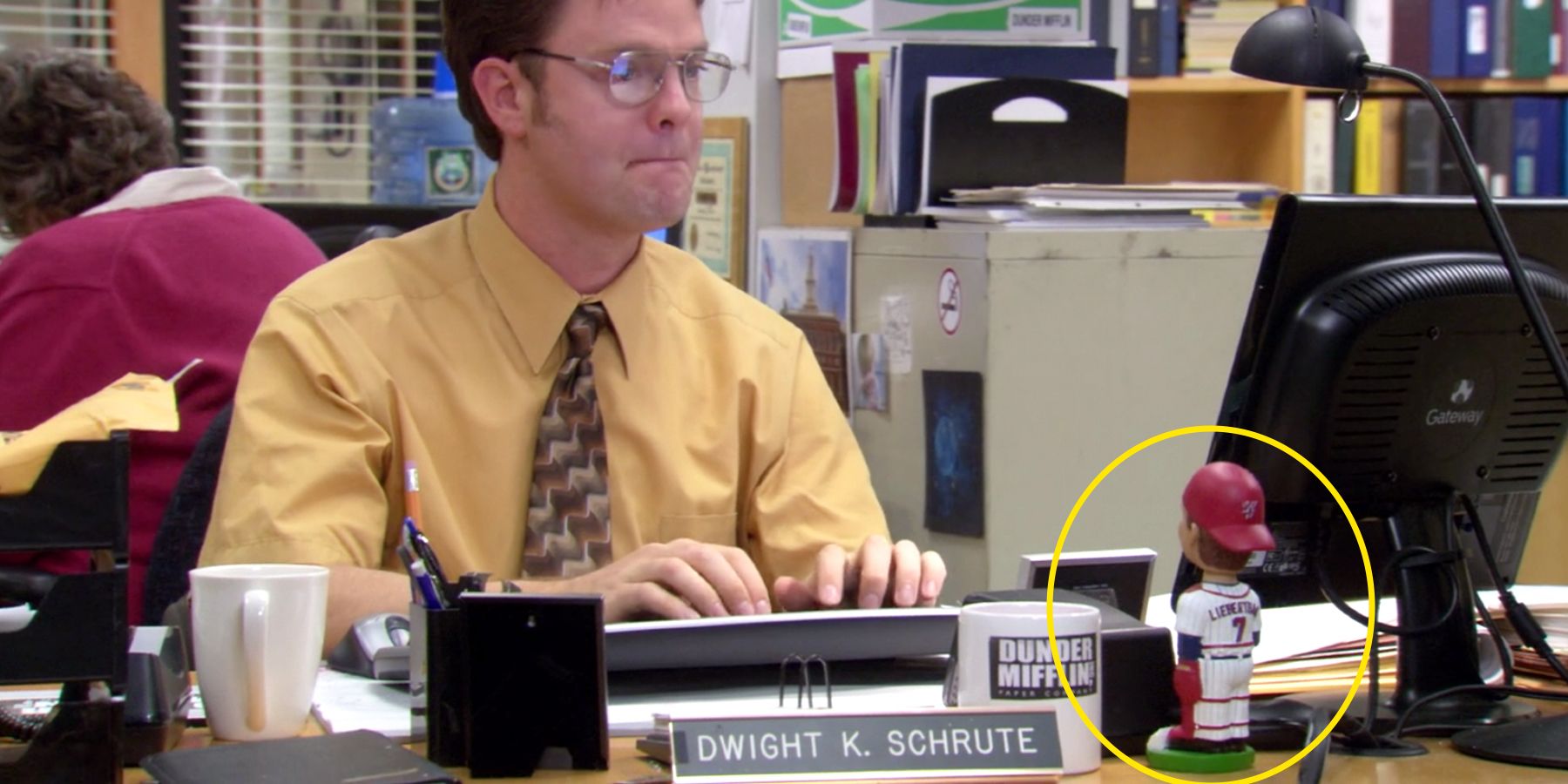 Lieberthal notably went by Mike or his nickname "Lieby" during his career, but his full name is Michael Scott Lieberthal. Dwight never directly spoke about his Lieberthal bobblehead, and many viewers likely assumed it was a nod to the local minor league team. The Office featured a lot of small details that connected to the Scranton area. Lieberthal's first and middle name matching the central figure of the series, however, serves as another clever Easter egg that many fans probably missed.
The real question was whether Dwight cherished the baseball bobblehead because of the Michael Scott name, or was it just pure coincidence? There was no question that Dwight viewed Michael as a mentor, especially in the early seasons of The Office. Dwight was Michael's right-hand man, even if it meant being taken advantage of from time to time. Even so, Dwight always looked up to his boss, and the fact that he had a bobblehead of someone who shared his name was insanely clever. He didn't have the time to make a real Michael Scott bobblehead, so a Michael Scott Lieberthal bobblehead may have been the next best option in Dwight's mind.
Next: The Office Almost Had A Jim & Pam Spinoff (Which Would've Been Terrible)